Reduce stress, improve relationships and boost morale with a Laughter Workshop!
A new & fun solution for your team event!
About Laughter Teambuilding
Since 2009 we have helped hundreds of UK businesses and organisations to build stronger, happier and more motivated teams, using the amazing power of laughter. We would love to do the same for your workplace.
Laughter team building sessions are designed to bond, relax and de-stress your staff in a supportive, positive atmosphere. They are mix of laughter yoga exercises, fun team building games, breathing and meditations.
Above all, the sessions are about people not taking themselves so seriously, letting go of their egos, which is great for breaking down barriers and helping people to connect.
A unique levelling team builder. Well executed, overcoming initial scepticism. Three months on, the team are still talking and laughing about it! Recommended.
HR Director United Biscuits
Loosen up with laughter and watch how it helps your team to bond
You might think a 'laughter team building session' sounds weird and way out. Perhaps you're sceptical about whether it would work for your team.
We have worked with a wide range of businesses and organisations, including some individuals who are naturally more reserved. Almost without exception, even the most uptight team members have quickly got into the mood.
They've been amazed how much better they feel afterwards – about themselves, their colleagues and their jobs!
Why is laughter so effective at bonding teams together?
Researchers have discovered laughter plays an important part in strengthening human relationships. Laughter occurs when people are comfortable with one another, when they feel open and free. The more laughter there is, the more bonding occurs within the group.
Most of the time in the workplace, we take ourselves far too seriously. But when we start laughing, it's infectious and does amazingly positive things to our sense of well-being and relationships.
Hundreds of businesses and organisations around the UK have already proved this to be true, by taking part in our laughter team building sessions. Your team could experience the benefits too!
Response was very positive and we are all still laughing!
WH Smith
Clients
Our clients include large corporations, universities and colleges, councils and local government, community organisations – anyone who is involved in work responsibilities that can sometimes seem heavy. They need something different and "fun" to lighten the mood occasionally.
We can come to you anywhere in the UK . All we need is a spacious room. Sessions can last from 20 minutes up to a full day. The most popular option is between one and two hours.
Here is a small selection of clients that we have worked with
Reviews
Astra Zenica
,
John facilitated at one of our conferences and brought lots of fun energy to the group. This was something different but everyone joined in and we were still laughing about it for days to come. If you want a unique, fun session, would totally recommend
 Derby College
,
Delivered to 120 staff! All embraced the session.  John made all feel at ease and get everyone seeing the fun in it!  Would highly recommend
Sainsbury's
,
Was fun and different to regular team building.  Everyone felt energized after!  Great if you need a team pick me up!
Oxleas NHS foundation
,
Everyone had a great time during the session and it was very well received!  Due to the success we'd like another session next year!
Parkinsons UK
,
It worked wonders and one person who had a bad tremor said it stopped totally.  Brilliant!
Welford Primary School, Birmingham.
,
Brilliant session!  Lifted everyone's spirits  and left staff laughing!
Sky UK
,
Fantastic and fresh.  People came out of their shells!  Great feedback.  Well done you surpassed expectation and delivered a great session.  Teams within our business have already booked you.
University of London
,
Very well received and I think you managed to cheer a few people up!
United Biscuits
,
The real proof is that 3 months on the team are still talking and laughing about it!  A unique leveler!
Coca Cola
,
Thoroughly enjoyed by all!  A great hour!  Would strongly recommend.
Talk Talk
,
Looking for a team builder which will leave your teams positive and energized then book this!  Great fun as a team forgetting about the day job!.  The team still talk about it.
B & Q
,
Everyone stayed in high spirits after.  Unique and would recommend to other teams – best morning at work of my life.
Rethink
,
Thanks for a great session.  Would recommend to the senior managers.
Shell
,
It went very well!   The team enjoyed it very much!  A great job.
Contact
If you need a boost for your staff, give us a call on 0115 772 2062. We'll be pleased to discuss how we can tailor a laughter team building session to your needs. We will give you a quote within an hour!
We look forward to laughing with you soon!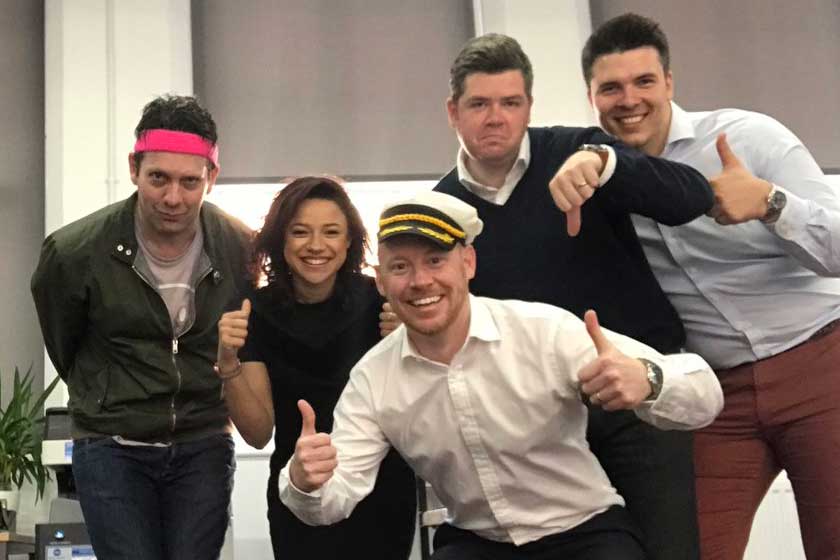 We'd love to give you this new experience! Get a quote within the hour!
Call Now
Telephone: 0115 772 2062
Mobile: 07545 347 462
Send a message